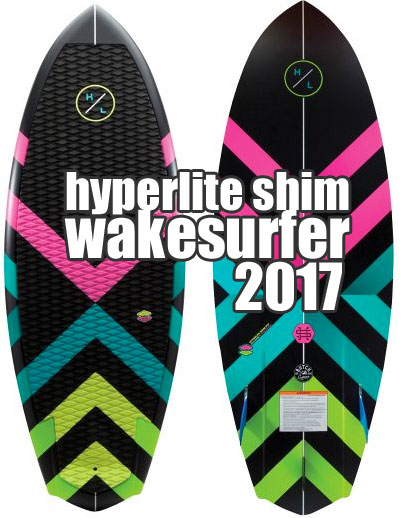 Pros: Lots of great features listed below
Cons: Not many boards still available… I'll get straight to the features:
The Hyperlite Shim 2017 Gives Boaters Lots of Value
As you may already know from the 2016 version of the Hyperlite Shim wakesurfer, this hybrid board offers lots of value because of its versatility.
Higher Resale: On top of that, this wakesurf board holds its value well. For example, last year's model (2016) sells for only about $125 less than the 2017 board. If you are someone you likes to upgrade their surfer every year, this is a cost-saving factor to consider.
Both Surf & Skim: This hybrid wakesurfer lets people ride surf or skim style. Show off your tricks or go for a long mellow ride. Whether you want the ability to mix up your riding, or you want to get a single board that can handle multiple riders, the Hyperlite Shim is a good option.
Get More Fins: This package comes with 3 removable fins, so riders can choose to use a single fin, a dual set-up or all 3 at once.
For Intermediate-Advanced Riders, but Beginners Can Use it Too
The 2017 Shim has several advanced features, making it popular with intermediate and advanced riders. However, this doesn't mean that new riders have to stay in the boat.
The design feature you want to look for when shopping for a beginner wakesurf board is the size. Larger surfaces provide greater stability for novice surfers. Therefore, if you plan on having beginner riders use the Shim, simply opt for the larger size (the 5'3″).
Board Sizes:
4'7″, rider weight range 100+
5'3″, rider weight range 120+
By the way, this surfer weighs in at only about 5 lbs, so even smaller people or kids can easily carry it and maneuver it in the water.
All that said, people who want to level-up their surfing skills don't feel held back with the Hyperlite Shim.
The compact design makes it faster and easier to rotate and spin on the water. Not to mention, the lighter weight gives you more lift for air jumps.
Wake Makers also mentions a couple more attributes that make this board worth looking at:
Diamond Tail Design
Instead of getting a pin tail or squash tail, you get a combination of both here. Why does this matter? You can make tight turns without a lot of effort, plus this design helps speed up the board.
The Thruster Fin
They state that this is most popular fin setup. The 2 outer fins let you generate speed, plus the center fin gives riders stability and control.
Another Bonus: Long-Lasting Durability
Maybe you want your gear to last a long time. Who wouldn't, right? You'll be happy to know that Hyperlite uses their new Dura-shell technology in this board. Basically, you get the buoyancy and feel of a high-end EPS board PLUS the durability of a compression molded board.
Shim 2017 Specs:
Dura-Shell Construction
EPS Core
Monocoque Construction
Layered Glass
Single Concave Base Contour
Mellow Tail Channels
Futures Fin System