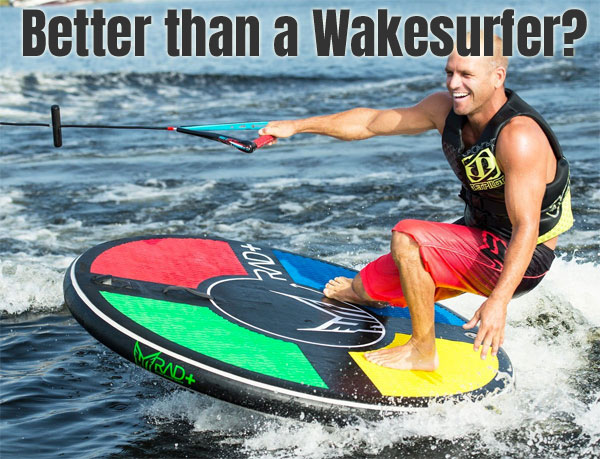 A unique wakesurfing alternative to the traditional wakesurf board is the HO RAD, otherwise known as the "Round Aquatic Device".
The RAD makes it easy for virtually anyone to enjoy being towed behind the boat, no matter your age or skill level.
1. Multiple Ways to Ride the HO RAD
First of all, you don't have to stand on it. You can also kneel or sit on the board. Riders can test out their balance and learn new surfing skills, but they can also simply lay on the RAD, relax and enjoy being pulled.
2. Go As Fast or as Slow as You Want
Secondly, the boat driver can tow the RAD at various speeds. Many people ride between 14 and 18 mph, but others enjoy using it from 10 mph to 25 mph.
The various speed options allow small kids and new riders to fell more comfortable and get their sea legs as they start out. On the other hand, more advanced riders can go faster and perform more challenging moves for a bigger adrenaline rush.
3. Large & Small RAD Discs – for More Stability or More Challenge
Third, the HO RAD comes in 3 different sizes: 3′, 4′ and 5′ diameter. The largest version can support multiple kids at once and is easiest to get up on. On the other hand, the smaller 3′ RAD disc provides more challenge for advanced riders.
4. You Can Attach the Rope Directly to the RAD
Fourth, unlike wakesurf boards, you can attach the rope handle directly to the RAD disc if you want. This lets you easily hold on to the disc handles if you are laying down or kneeling. Of course, you can also hold the rope handle in your hands similar to wakesurfing or wakeboarding.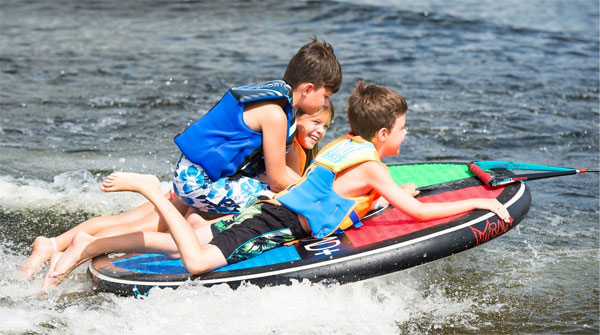 How is the RAD Made? Why is it Better?
The Round Aquatic Device is inflatable. However, it has a firm, rigid structure with durable drop-stitch construction similar to inflatable paddleboards.
Inflatables have a big advantage in that they are ultra portable, and you don't have to worry about dings or dents on your board. If they bang into the side of the boat or a dock, no problem. In addition, if you happen to fall on it, inflatables are much more forgiving than hard boards.
RAD discs also feature EVA traction pads that allow your feet to really grip the board surface without slipping around. Traction pads make it easier to build confidence as you're learning or move your feet on the board as you're trying new tricks. They also help when you're performing yoga poses on the board or simply climbing around on it.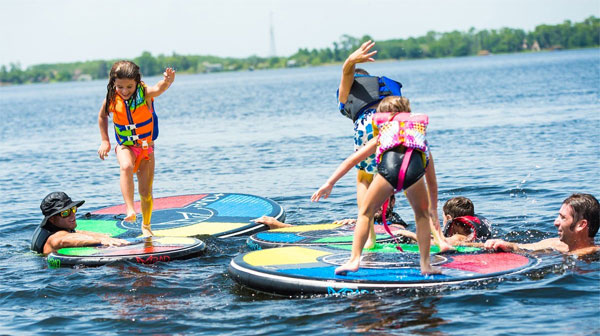 HO RAD Specs:
3 Sizes: 3 foot, 4 foot or 5 foot diameter
Weight Capacity: None
Weight: approximately 26 lbs
About the Company: HO Sports