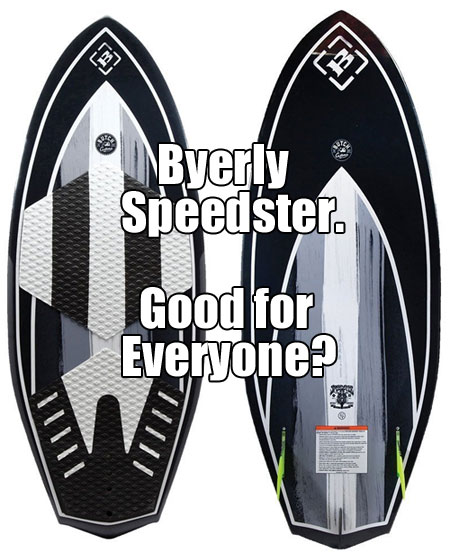 Just like the name suggests, the Speedster is fast. The Byerly Speedster is designed with intermediate and advanced riders in mind.
It features a dual concave base, which provides a quicker response as well as faster acceleration. Riders can therefore complete spins and turns faster and with more ease.
The versatile hybrid design attracts both skim-style and surf-style riders (and of course those who enjoy both). Plus, the package includes 3 removable and interchangeable fins. You can change up the board's performance depending on the rider, the wake and your mood. =)
For example, if you want more stability and control, use the center fin. On the other hand, if you feel more speed, take the center fin out and use just the outer 2 fins.
See all of the Byerly Wakesurfers for 2017, including the Byerly Speedster…




Speedster | Byerly Buzz

A Good Wakesurfer for Beginners Too?
In addition, the speed factor on the Speedster also helps novices propel through the water with less effort. Thus, they can focus more on balance and, well, having fun.
This board also features a "rolled edge". This simply means that the board is more forgiving. Riders can practice their moves and make small mistakes without completely falling off the board as much.
In addition, this larger 5'2″ model gives you more surface area than the smaller 4'8″ version. For beginners (and everyone for that matter), this means greater stability. In short, better balance translates to greater confidence and more fun behind the boat. And who doesn't want that?
You'll also notice that the Byerly Speedster has a wider tail design than other skim-style boards. This "Diamond Tail" combines the advantages of the pin tail and squash tail designs, which results in ultimate performance.
Furthermore, this feature gives riders better ability to catch up with the wake should they fall behind. The bottom line: longer runs!
Byerly Speedster Wakesurf Board Specs:
Length: 5'2″
Construction: Compression-Molded with Biolite 3 Foam Core (greater durability, less dings, less cracks)
Design: Dual Concave Base (faster acceleration)
Ability Level: Intermediate – Advanced
Rider Weight: 120 lbs+
Fins: 3, Futures Fin System
Speedster Wakesurfer Summary:
To sum it up, this wakesurf board accommodates beginners, intermediate and advanced riders. People can ride both skim or surf style. They can change out the fins to customize their rider even more.
On top of that, the compression molded durability makes this wakesurfer last longer, even if you have multiple people using it all summer long. Priced at about $400, the Byerly Speedster wakesurf board is a great deal.