Do you want to get out on the water without spending a lot of money on a wakesurf board? Then check out the Liquid Force Swami.
This Wakesurfer Will Save You Money:
Liquid Force just released this new model, and right now you can get it for just under $300. Seriously, this is a great price. However, the supply is extremely limited. Don't wait if you think you might want it.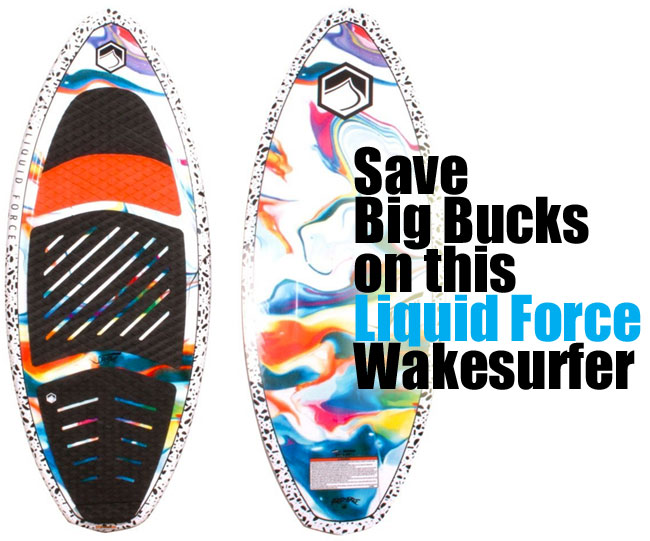 Plus, the compression molded design makes this wakesurfer more durable. Therefore, it will last you more seasons, saving you even more money. You can worry less about dings and dents, which can happen when you've got multiple people using one board all weekend long.
Who the Liquid Force Swami is Designed For and Why:
This wakesurfer has a skim-style design. If you like doing spins, jumps or shuvits, you will like this style of board. Plus, if you haven't yet mastered wakesurfing tricks, this board makes them easier to learn.
The Swami glides easily along the water because of the built-in concave design on the base. This helps with speed and stability, making it easier to learn new moves and complete spins faster.
In addition, Liquid Force added a slotted tail through the tail of the board which gives you more control. Who wants to be out of control, right?
The rounded diamond tail gives the ride more control while not giving up much speed. It falls between the pin tail design (faster with less control) and square tail ("less fast" with more control).
In addition, this special tail design makes it easier for people to ride switch (both forward and reverse).
Watch this review for more information:
Is this Wakesurf Board Good for Beginners?
Similar to the Slingshot Butter Bar, the Swami features a full deck pad. Having more grip on the board's surface provides greater stability, especially for newer riders.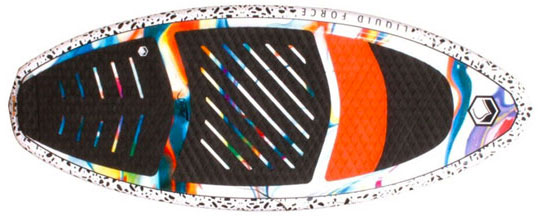 You can use this board with or without fins. The 2 fins will add more drive. However, they are shallow fins, which are not ideal for beginners.
Evo.com recommends getting a wakesurf board that measures between 4'6″ – 5'4″ with at least 9cm fins if you want to accommodate riders at multiple skill levels. The Inland Surfer Sweet Spot accommodates multiple riders and is a good alternative with longer fins interchangeable fins.
Liquid Force Swami Specs:
Riding Style: Skim
Construction: Compression Molded
Board Lengths: 4'5″ long (for riders up to 184 lbs), and 4'10" long (185-250 lbs)
Skill Level: Intermediate-Advanced
Model Year: 2017
Model #: 2175430