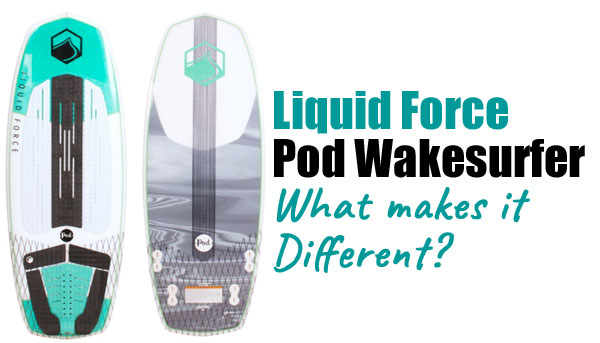 The Liquid Force Pod is Lightweight – and Why That's Good…
In the video below, Jimmy Redmon from Liquid Force explains how they achieve such a lightweight design in this high performance wakesurfer.
First of all, they made the Pod thinner, narrower and shorter without decreasing the volume. Therefore, it can turn faster (especially nice in tight turns) and is more responsive.
Second, they use a polypropylene material on the top of the board called Innegra. It helps absorb impact while adding virtually no weight to the board. Plus, it gives the rider more support.
Third, they add carbon lines to the base of the board so they can use a smaller stringer. This feature also makes the wakesurf board more buoyant.
Pod Wakesurfer Construction Pros & Cons:
This board is made with EPS, or expanded polystyrene. Compared to wakesurfers with PU (polyurethane), it weighs less and has more buoyancy.
However, they typically cost more because they require more time and work to build. In addition, some people think that PU boards are easier to turn because they sink more in the water. It may come down to personal preference, as each material has its pros and cons.
Liquid Force Pod Wakesurfer Specs:
Rider Skill Level: Advanced
Board Riding Style: Surf
Board Material: CNC EPS Foam Core with Stringer
Fins: Quad fin Set-Up
Model Year: 2017
About the Manufacturer: Liquid Force
Click Here for 15% Off