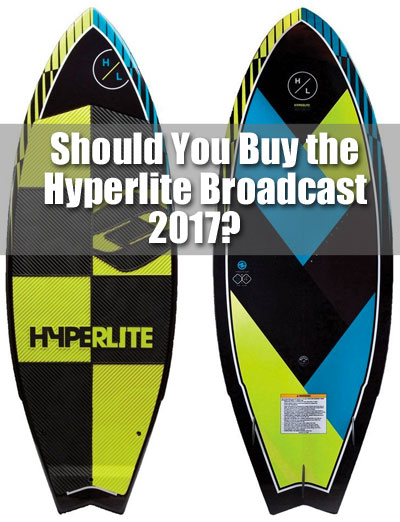 The Hyperlite Broadcast wakesurfer returns for 2017. This comes as no surprise, because this model ranks as one of the most popular wakesurf boards on the market.
Why is the Hyperlite Broadcast So Popular?
For years, the Broadcast line has attracted lots of attention. This is partially because the Broadcast can be used by riders of any skill level (beginner through advanced).
The core design features help maximize your wakesurfing performance whether you are just learning or you are attempting to perfect your moves. (and who doesn't want to look good on the wake, right?)
Therefore, Hyperlite has kept most of the design features the same. You still get the tri-fin set up, the swallow tail styling and the dual concave base construction.
What Makes the Hyperlite Broadcast for 2017 Different?
The 2017 model has a new rocker line. This gives advanced riders the ability to pull off rotations more easily. The difference is the speed: rotations become easier when you have greater speed.
At the same time, beginners can benefit from the additional momentum and more responsive board. The wide shape combined with machined EVA deck pad increases stability, and greater speed helps newbies glide through the water with less effort.
Basically, the company has improved upon the "already great" features – and made them even better. No complaints here.
The Price…
Another selling point about the Hyperlight Broadcast line includes that fact that they have an affordable price tag. They typically run between $350 and $400. They are not cheaply made, yet they don't cost too much.
In addition, they hold their value. Therefore, if you decide to sell your board next year, you will more likely find more buyers willing to pay more for it.
2 Board Sizes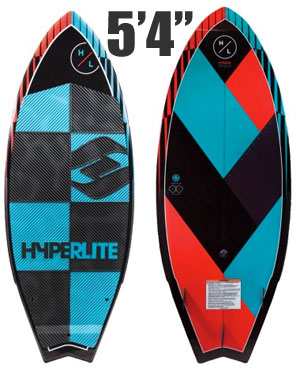 The broadcast comes in 2 different sizes: 4'8″ and 5'4″ long.
4'8″: Use the smaller board for kids, petite women or smaller riders.
5'4″: The larger version works better for larger and taller people, plus it also provides more stability for new riders.
We've included a video review of last year's model (the 2016 Hyperlite Broadcast) so you can view the deck features up close and see how it rides…
Hyperlite Broadcast Wakesurfer 2017 Specs:
Dura-Shell Construction (this technology gives the customer the best balance of performance, weight, durability, and price)
Dual Concave Base
Mellow Tail Channels
Tri-Fin Set Up: (2) 1.5″ Fish, (1) 2.4″ Fish
Fully Machined EVA Traction Pad
Product ID: 460127
Model Number: 73781010
Should You Buy It?
This wakesurf board an provide many years of use for lots of different riders. It can help you maximize your performance and save you money at the same time. If you only get one wakesurfer for the boat, this one makes a good option.