A good beginner wakesurf board is one that provides stability to new riders. The more stable a wakesurfer is, the easier it is for people to stand up and surf without falling down.
Basically, the faster and easier it is for a newbie can learn to wakesurf, the more fun it will be. Here's a short video clip that explains more about the Liquid Force Rocket, one of my favorite wakesurfers.
Liquid Force Rocket 2017
What to Look for in Beginner Wakesurf Board:
You want to look for a larger wakesurfer with more surface area. The extra size makes it easier for people to balance on the board. It is less tippy and usually rides slower than smaller boards.
A long center fin (ie. 2″ long) can help increase stability too. A deeper fin will help steer the wakesurfer in a straight line without much effort from the rider.
A large grippy traction pad on top gives riders a surface they can easily grip with their feet so they don't slip off. Pretty much all wakesurf boards come with this feature, but some deck pads are larger than others. Some deck pads also feature ridges need the tail which can be helpful as well.
Beginner Wakesurfers that aren't Just for Beginners…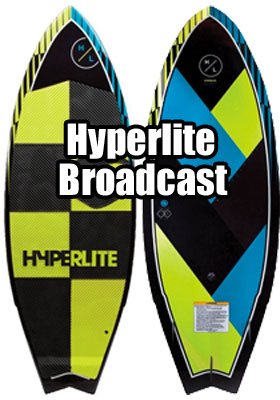 Some boards have the desired beginner design but also include additional features for intermediate and advanced riders.
These wakesurfers can be a better investment, since you can use them for a longer period of time and don't outgrow them so quickly.
Furthermore, the wakesurf board can accommodate riders of a variety of different skill levels, so more people can use the board.
In fact, You may only need one board for the entire boat.
Wakesurf Boards for Beginners:
Here are my top picks. They are high-quality wakesurfers that offer good value at the same time.
In addition, they are versatile enough to work for both beginner and intermediate riders. Beginners can learn quickly while getting the stability they need, and intermediate surfers will get such a good ride that they may not even realize they are riding a beginner board.