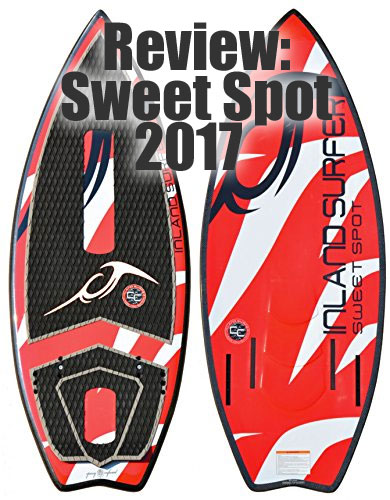 Inland Surfer has some great wakesurfers for 2017. Typically, this early in the season, you don't find significant mark-downs on boards, especially the new models.
However, the 2017 Inland Surfer Sweet Spot is on sale, and you can save $140 right now. Take note, the red version has been marked down, but the blue version has not. Blue still has a much higher price tag.
With the money you save on the red board, you can grab a rope, vest or simply stick the extra cash in your pocket.
Anyway, let's get on to the 2017 Sweet Spot. What's special about it (besides the price)?
First of all, this is an advanced wakesurfer (for intermediate to pro riders). The rocker and tail design make it easy to complete spins and get lots of air off the wake. If you want a high-performance board, you won't be disappointed with the Sweet Spot.
That said, if you're just starting out or looking for a beginner board, this may not be the best option for you. There are several other high-quality boards that you can buy for half the price. (For example the Liquid Force Rocket or the CWB Ride). They don't have all of the special features of the Sweet Spot, but you probably won't need them anyway.
Note: Inland Surfer has been making this model for 9 years. This means that you can get a lot of information on how well the board performs simply by surfing the web. It's a great way to get multiple opinions for a variety of different riders.
Secondly, the fin options are almost endless (well, not really). The Sweet Spot features 4 fin boxes, and they each allow for 3 different fin positions. In addition, you have a variety of different fin options.
Note: the package includes 1 pair (2) standard 9cm surf fins. Although it means that you'll need to buy 2 more fins if you want 4. On the other hand, this gives you the option to choose the size and style of fin you want to use.
Inland Surfer Sweet Spot 2017 Review:
2017 Sweet Spot Specs:
Ability Level: Intermediate to Pro
Dimensions: 4'8″ long x 21″ wide x 1.75″ thick
Weight: 7 lbs
Rider Weight Range: 100 to 225+ lbs
Deck Pads: Front and rear flat and arch deck traction inserts included.
Fins: Quad fin option. Includes one pair of Blue Standard 9cm surf fins.
More Inland Surfer Wakesurf Boards: